The car battery is the lifeline of your Dodge. When the battery is dead, the wheels of your vehicle won't take you anywhere.
Every year, many people around the areas of Freehold, Farmingdale, and Monroe Township are affected by the experience of having their car battery die. Knowing when you may need a new battery and acting quickly to have the component replaced is critical to ensuring that you're not stranded due to electrical failure.
Here are some signs that your car battery needs to be replaced by a professional Dodge mechanic. 
Why Is the Battery Important?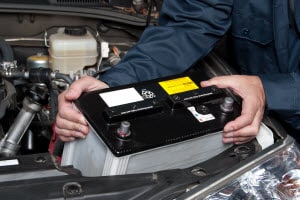 The car battery is one of the most critical components in the vehicle. It takes an enormous amount of energy to start a car engine - energy that's provided by the battery. The main job of the car battery is to crank the motor. After you've cranked your vehicle and are driving to your destination, the alternator will take over as the power source.  
Delayed Engine Ignition
If you have to turn your key several times to prompt the engine to start before it cranks, your battery is probably on its last leg. Slow engine ignition is often a sign that your battery has a poor charge and will need to be replaced shortly.   
Check Engine Light
The check engine light is a prompt that warns the driver that something is amiss in their engine compartment. Though it's often dismissed as an annoyance, the light should always be taken seriously.
Running a diagnostic analysis of your vehicle to pinpoint the issue that prompted the computer to display your check engine light takes little time - time that could save you a lot of money by preventing even more damage from continued driving. Seeing the check engine light could mean that your battery is low. 
Battery Light
Your Dodge is equipped with a light that specifically warns the driver that the battery will soon die. This light is displayed on the dashboard in the shape of a battery. If you see this light, don't wait to have your car serviced. Immediately take your vehicle to a professional Dodge mechanic and have your battery checked.     
Swollen Battery Case
Exposure to extreme heat can damage your battery, cause the charge to decrease, and present as a swollen battery case. If you notice that your battery case is swollen, this is a warning that you need to have it assessed by a mechanic. Overheating may significantly decrease your battery life, leading to battery failure, and can also damage other components of your vehicle. 
Corrosion
Overcharging your car battery causes sulfuric fumes to be released. These fumes create corrosion when they meet the lead of the battery posts. You'll see this as a white, powdery substance. Corrosion will prevent the conduction of energy, preventing your car from starting. If left unchanged, the corrosion can spread through your battery. 
Aged Battery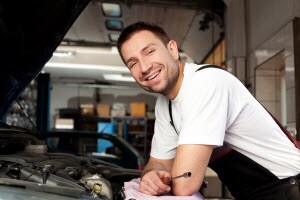 Even a good battery won't last forever. The charge of your car battery will decrease due to old age. It's a great idea to bring your battery in once a year to be checked to ensure that it's still in good working condition.    
To schedule a service or checkup on your car battery, visit our battery repair page or contact a Freehold Dodge representative, the most trusted Dodge professionals in the areas of Freehold, Farmingdale, and Monroe Township.