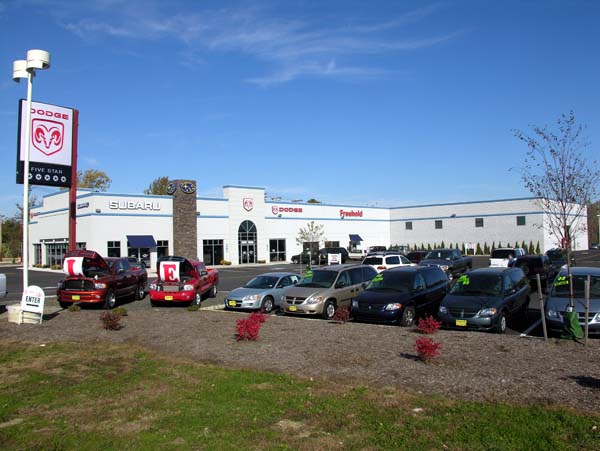 Are you in the market for a new car? Freehold Dodge is one of the premier Dodge dealers in NJ, offering a well-stocked inventory of new and pre-owned vehicles by Dodge and Ram.
Conveniently located in central Jersey at the intersection of South Street and Route 9, Freehold Dodge is the dealer of choice for New York metro, Jersey shore, and central Jersey communities including Bay Head, Seaside, Middletown, Staten Island, and Princeton. 
Since 1964, Freehold Dodge has offered one of the widest selections of new and pre-owned vehicles in Ocean, Mercer, and Middlesex counties. Aside from our abundant inventory, we differentiate ourselves by providing our customers with superior experiences, whether they're purchasing new vehicles or having existing ones serviced.
When purchasing a new car, we understand that much of the initial research these days is done on the Internet. To meet the needs of our customers, we have enhanced our website to provide an overview of what we currently have in inventory. To help you determine what you can qualify for on the front end, we offer the ability to get pre-approved instantly for financing simply by completing an online form. We can also help you get a better handle on your finances by providing you with online tools such as a payment calculator.
As you browse our website, be sure to check out our specials and incentives, as there are a number of great programs available to make your car purchase and maintenance more affordable. These special programs are constantly changing, so be sure to stay up-to-date on the potential savings that could be available to you.

Dodge was just awarded with three J.D. Power APEAL Awards for its Charger, Challenger, and Dart models. As you can see, awards and accolades are nothing new for the Dodge brand, and we're proud to be among the best Dodge dealers in NJ.
As a valued NJ Dodge dealer, we also offer an onsite service center at Freehold Dodge. Our diligent and highly trained specialists provide fast, convenient, and quality service and help you to stay on track with your recommended service schedule.
We invite you to come in and experience all that we have to offer at Freehold Dodge. Our experienced and knowledgeable team is happy to answer any of your questions and help you find the vehicle that best suits your needs.
Freehold Dodge is located at 299 South Street in Freehold, NJ near the intersection of South Street and Route 9.
To learn more about us and schedule a time to preview our selection, please contact us at Freehold Dodge in Freehold, NJ.