With their dependable and powerful designs, you'd be amazed at what RAM commercial trucks can accomplish for your business in Freehold, Farmingdale or Monroe Township. If you're shopping for a new truck or van for your company, we've listed RAM's available commercial vehicles below.
1.       RAM 1500 Tradesman®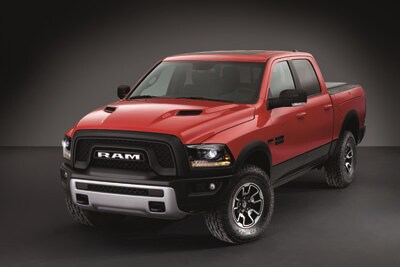 Capable of 1,810 pounds of payload and 7,610 pounds of towing when equipped with a V6, the latest RAM 1500 can shoulder your toughest workloads. Its versatile design is well suited for areas with a varied climate and terrain, while its spacious cab provides the comfort of an office and the utility of a traditional truck.
Powered by a standard 305 horsepower Pentastar® V6 and eight-speed automatic transmission, the RAM 1500 Tradesman® gets an EPA estimated 18 mpg city/ 25 mpg highway rating. That means you waste less time at the gas pump while out on business and lower your overhead costs for transportation.
2.       RAM 2500 Tradesman®
The RAM 2500 powers through any job from start to finish, especially in industries like landscaping, contracting, or construction. If you need a pickup truck that offers more towing and payload than the 1500, the RAM 2500 may be the best option for your business.
The RAM 2500 gets a best-in-class 410 horsepower and a best-in-class 429 pounds-feet of torque when equipped with the available 6.4L HEMI® V8 engine, and maintains an efficient fuel economy and smooth highway performance.
The 2500 also offers three upfit options for snow plows, took boxes and service capsules, depending on what your business needs. Whatever your workload entails, the RAM 2500 is prepared for the long haul, especially with its precise handling and controlled steering. 
3.       RAM 3500 Tradesman®
When fitted with the available Cummins® Turbo Diesel I6 engine, the RAM 3500 Tradesman® gets a Best-in-Class maximum towing capacity of 31,210 pounds and GCWR 39,100 pounds. Pair that with RAM's available AISIN six-speed automatic transmission, and the 3500 offers a Best-in-Class 900 pounds-feet of torque.
Additionally, the 3500 Tradesman is available with a toolbox upfit, snow plow upfit and service capsule upfit for increased versatility and capabilities. Depending on what your business needs, the 3500 offers a powerful performance even when it's loaded with cargo.
4.       RAM Chassis Cab
Ram chassis cabs are great for visiting clients, making deliveries or travelling long distances on the highway. Its smooth ride and powerful engine options provide top-notch performances both on- and off-road while its versatile body configurations offer unprecedented strength and versatility.
As one of the most powerful commercial vehicles on the marketplace, RAM chassis cab models equipped with a 6.7 L Cummins® Turbo Diesel I6 engine offer nearly 30,000 pounds of towing and over 12,000 pounds of payload. Inside, its cab combines practicality and style to effectively double as an office on wheels.
5.       RAM Promaster City®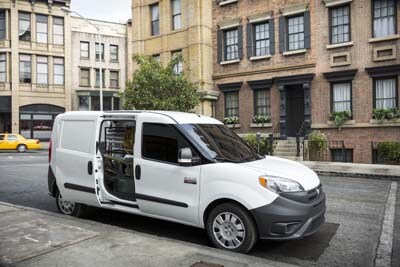 The RAM Promaster City® cargo van offers a best-in-class 131.7 cubic feet of cargo capacity, which means you take fewer trips to your loading dock and spend more time making deliveries. The Promaster City® offers 1,883 pounds of payload to haul your equipment long distance and is easy to maneuver on the highway.
A smart investment for any business, the RAM Promaster City® is powered by a 178 horsepower 2.4L four-cylinder engine and a nine-speed automatic transmission. Its efficient fuel economy and flexible storage space appeal to a wide range of customers in Freehold, Farmingdale and Monroe Township, especially with its impressive power and torque.
6.       RAM Promaster®
With 4,420 pounds of available payload, the RAM Promaster® is a great option for making deliveries or transporting equipment. The Promaster® is available in both gas and diesel powertrains, which makes it incredibly capable while going about your business day. 
The Promaster® is a great van for HVAC, carpentry and plumbing services, especially since you can convert it to mobile warehouse or workshop. 14 different configurations are available with the ProMaster® and its impressive handling makes it easy to maneuver on most road conditions.
Learn More at Freehold Dodge
RAM's commercial vehicles are some of the best in the business. To learn more, contact Freehold Dodge, conveniently located at 299 South Street in Freehold, NJ, or call (888) 890-3905 to speak with a sales representative.