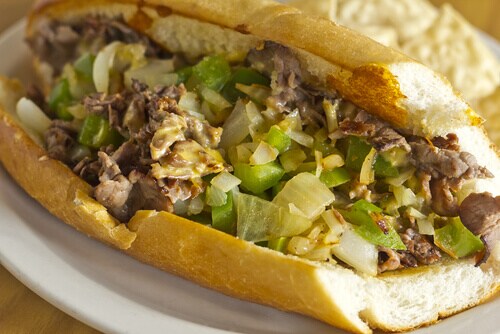 When you're trying to plan out where you want to get your next meal and you're sick of waiting for a table, why don't you try a food truck? These mobile eateries offer great food and service. So, to get people like you in the Freehold, Farmingdale and Monroe county area up to speed, we're going to give you a list of the best food trucks near Monmouth County.
ahh! la cart
Chef and owner Michael Curran opened ahh! la cart in 2012 with the sole purpose of creating food with the freshest ingredients while blending his passion and creativity. This scratch kitchen-on-wheels offers a variety of international dishes that you can really sink your teeth into. Whether you're in the mood for an Italian hot dog, a Philly cheesesteak or a chicken gyro, you can have them all at ahh! la cart. This truck even caters, so you can supply your next party with some high quality food without having to clean the dishes.
Empanada Guy
Empanada Guy started out as a wholesale business and, over the years and growing popularity, it became an entire fleet of food trucks. Empanada Guy offers a variety of dishes that you can enjoy, like sandwiches, platters and sides; but with a name like Empanada Guy, you may want to go with their specialty. These food trucks utilize fresh ingredients in their signature empanadas like the lobster empanada, the pulled pork empanada or the sweet apple cinnamon empanada.
Lala's Puerto Rican Kitchen
Lala's is like an authentic Puerto Rican kitchen, only it's on wheels. This food truck strives to bring authentic Puerto Rican flavors to the Monmouth County area by only using the finest ingredients available. Lala's most popular item is the Pernil, which is slow roasted pork that's served over yellow rice and pigeon peas. This food truck also specializes in fritters like empanadas, fried green plantains and mashed potato fritters filled with seasoned beef. You don't have to travel far from Monmouth County to get an authentic taste of Puerto Rico.
Lexylicious
After you've sampled some delicious food, you'll have a hankering for dessert. That's where Lexylicious comes in. This food truck specializes in ice cream sandwiches, made fresh in front of your very eyes. You get to pick what you want, starting with the "bread," which allows you to start your ice cream sandwich with chocolate chip cookie, Fruity Pebbles, Cinnamon Toast Crunch or even Captain Crunch. Next, you get to pick your ice cream with options like vanilla and chocolate or the more exotic flavors like cookies and cream or mint chip. Make your perfect ice cream sandwich, courtesy of Lexylicious.
All of these trucks offer great food that you can enjoy. Considering that these eateries are on wheels, the best way to find out where they are is their social media accounts. That way you'll know exactly where they are in the Freehold, Farmingdale and Monroe Township area.