Are you a thrill seeker? Then your favorite part of Halloween is probably finding yourself in the most haunted spots in New Jersey. Getting a good scare is all part of the season. Lucky for you, there are plenty of crowd favorites nearby.
Here are some of the best haunted attractions near Freehold, NJ.
C. Casola Farms: Haunted Casola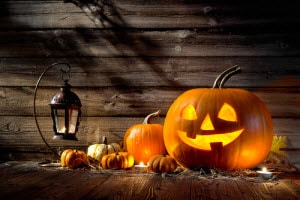 Haunted Casola is an event hosted by C. Casola Farms in Marlboro, NJ. They're open every weekend in October from 7 to 11 pm. Haunted Casola is quite popular, so it's recommended to arrive early for tickets.
This wicked location offers five haunted attractions as well as a station of Witches Brew Refreshments and a Halloween boutique. The five attractions are:
      
Haunted Hayride of Terror: Guests say they see and hear things come alive on this haunted hayride through the thick backwoods. Beware of shadows and the cries of unfortunate victims as you ride along.
      
3D Haunted Barn: This is a true work of art. Incredibly realistic 3D images pop off the walls. Make sure that you stay with your group and don't fall out of line - it's more than pictures that make this attraction the scariest barn on the east coast.
      
The Haunted Wooded Trail: Each step on this trail could be your last. You won't have the hayride as a shield from the terrors that lurk within the woods.
      
The Living Maze: The hellish haze of the living maze is full of twists and turns-and haunted terrors. Take care to not get lost because you never know what you might run into.
To learn more, check out their Facebook page.
Field of Terror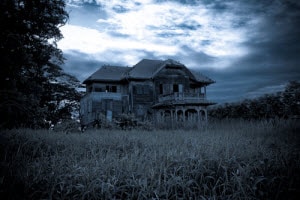 Farmer Frank wasn't happy with his simple vegetable farm in East Windsor, NJ. His goal was to create a farm that blended human life with the vegetation. This was a horrible failure, and the ghoulish creations still roam the land to this day.
As one of New Jersey's premier haunted attractions, the Field of Terror features a Zombie Paintball Wagon Hunt, Killer Kornfield, Zombie Attack Haunted Hayride, The Unknown Barn, Dementia 3D Haunted House, as well as family-friendly events in Sunshine Acres that aren't scary. Field of Terror also hosts an incredible Zombie Mud Run.
To learn more, check out their Facebook page.
Corner of Chaos
Proudly serving the tristate area, Corner of Chaos features a Chaotic Carnival Midway with spooky shows, dancing, and singing as well as four haunted attractions that are recommended for visitors ages 10 and older. If you would like to relax and try something a bit less frightening, Corner of Chaos recently opened a flashlight corn maze.
The featured haunted attractions include:
      
Wicked Wagon Ride
          
Wooded Wasteland
          
Barbaric Barnyard
          
Nightmare Machine
To learn more, check out their Facebook page.
Dodge Dealerships in Freehold, NJ
Don't be stuck with an old, haunted car this Halloween - stop by Freehold Dodge and let us put you in the driver's seat of a nice Dodge vehicle. We're proud to serve drivers in the areas of Freehold, Farmingdale, and Monroe Township.