Your brakes are a vital part of your vehicle and ignoring any problems with them puts your safety at risk as well as that of your passengers and others on the road. But how do you know if there really are any problems with your brakes?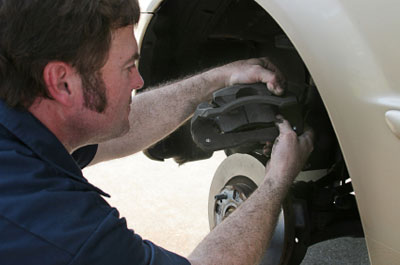 To keep you, your car, and your precious cargo safe, residents of Freehold, Farmingdale, and Monroe Township need brakes that work at the highest level. To make sure you understand when it's time to have your breaks replaced, Freehold Dodge is here to point out some of the signs of brake trouble. 
Noise
There are many audible signs that indicate you need to have your brakes checked. You need to have your brake pads replaced when your brakes emit a high-pitched screech each time you stop your vehicle.
Additionally, a grinding or growling noise usually indicates that your brake pads have worn down completely. The loud metal sound you hear is caused by the brake disc and the caliper rubbing together. The result is usually scratched rotors, which causes an uneven surface. This problem can get worse if you don't do anything about it. So instead of having to just get new brake pads, you'll have to pay for new rotors as well. 
Limited Responsiveness
A good indication that your brakes need to be replaced is when they don't respond as quickly as they should when you apply pressure to the brake pedal. This could be a sign of an air leak or a brake fluid leak. Either way, it's important to take your car to be serviced immediately if you notice that your brakes aren't working as well as they should.
Pulling
A sign of damaged brakes is when your car begins pulling to one side of the road when you're braking. This means your vehicle's brakes are wearing unevenly or your brake fluid has been affected. Resolving the problem could be as simple as having your brake fluid drained and replaced, but it may be that you need a brake adjustment.
Vibration
When you feel vibrations when you apply your brakes, this is a sign of warped rotors. Your rotors can become warped after long periods of time and lots of severe braking. Under severe braking conditions, your rotors experience a lot of friction and a lot of heat, which causes your rotors to warp. These warped rotors don't allow the brake pads to grip the surface evenly, which leads to the vibrations.
Many drivers over look these brake problems, which jeopardizes their safety and their car's health. Brakes that aren't working correctly make driving more dangerous and if ignored for too long, your car will be susceptible to much more damage, increasing the cost of the repairs you'll need to get.
Residents of Freehold, Farmingdale, and Monroe Township can take their vehicles to the service center at Freehold Dodge for brake services in Freehold, NJ. Our staff of highly trained automotive technicians will take care of your car, and Freehold Dodge offers the ability to schedule your next service appointment online.