British car  lovers in Freehold, Farmingdale, and Monroe Township can head to historic Ocean Grove, NJ, on Saturday, September 19 for the town's 18th Annual Brits on the Beach Car Show presented by the NJ Positive Earth Drivers Club. Commencing Saturday morning at 10 am, car show attendees can watch as the Ocean Grove business district streets line with classic British beauts.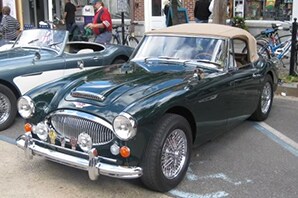 A Jolly Good Time
Marvel at models from a long history of auto greatness, including time-traveling Triumphs, restored Rolls Royces, elegant Jaguars, original Minis, and more. Get a close-up with countless classics, admire one-of-a-kind constructions, and chat with fellow motor heads who share a penchant for British auto brands. Out of hundreds of models in the show, 130 plaques will be awarded to the top participating models presented by the auto club's judges.
A Classic Venue for Classic Cars
Home to the largest collection of authentic Victorian buildings in the US, historic Ocean Grove is a fitting place for a congregation of traditional British car models. Visitors can admire the charming architecture that composes the area's historic inns, hotels, and businesses flanking the grove's seaside streets.
In between walking the car displays, guests can window shop on Main Avenue for one-of-a-kind antiques, designer clothing, and gourmet food treasures to take home.
Those in town will also enjoy exploring the Ocean Grove's historic Great Hall or heading down to the beach for some late afternoon rays after Brits on the Beach ends at 4 pm.
Fuel Up for the Show
Just two blocks from the car show grounds, Brits on the Beach goers will find a variety of beachfront eateries delivering delectable dishes to oceanside tables. The Ocean Grove Boardwalk features a number of specialty sweets shops, trendy cafés, and upscale restaurants opposite the Atlantic.
Located on Main Avenue in the Majestic Hotel, Bia Bistro offers tantalizing lunch plates that are perfect for sharing with your fellow auto admirers, such as Three Cheese Baked Mac & Cheese Mussels or Chili Lime Chicken Wings.
Car show visitors seeking classic seafood can head to SeaGrass Restaurant for casual dining and creative takes on freshly caught American specialties. Stop in for a bowl of their New England Clam Chowdah or Traditional Beer Battered Fish and Chips before heading back to the show.
Don't Miss a Memorable Lineup
Freehold, Farmingdale, and Monroe Township area auto aficionados can't miss this rain or shine show that travels a timeline of models celebrating British car brands. Attendees should keep their cameras handy in preparation to take in the undeniable sheen and styling associated with colorful auto exteriors from back in the day. Bring family and friends along for a fun-filled day of auto admiration, great shopping, and tasty seaside fare with this unforgettable parade of the classics!