Picture this: you overslept, and now your whole morning is rushed to get the kids and yourself out the door for school and work. Without too many complaints, you all pile in the car, only somewhat disheveled, and turn the key-only to hear the click, click, click of today's icing on the cake: a dead car battery.
Now, we can't go back in time and make sure you wake up on time, but to ensure a dead car battery doesn't add to an already hectic morning, our team at Freehold Dodge has put together this guide on how to test your car battery voltage.
Whether you're headed to Monroe Township, Farmingdale, Freehold, or Asbury Park, you don't want any surprises to interrupt getting to your destination. Keep reading to find out more or contact us today!
 How Does a Car Battery Die?
 Anything from simply forgetting to turn off your headlights at night to a faulty battery charging system can cause your battery to die. Many times, a car battery gives out from old age, as they should be replaced every four to five years.
Of course, some of these issues you can control and some you can't, but you can control your awareness of a battery that's losing steam.
Telltale Signs of Low Battery Voltage
When you know what to look for when your battery is dying, you can prevent that awful morning scenario we talked about earlier. The clicking noise that doesn't follow with an engine starting is one sign; your engine light appearing is another; or, you might smell sulfur-or a lovely rotten egg scent-that actually indicates a battery leak.
How to Test Your Car Battery
In order to test your car battery, you'll need just a few items: rubber gloves and goggles to keep your eyes and hands safe from battery acid, and a digital multimeter, which is an inexpensive purchase from your local auto shop.
Step 1: Finding the Battery
Most of the time, your car battery will be under the hood of the vehicle, somewhere near the fender. However, certain makes and models have the battery located in other areas, like the trunk. It's best to consult your owner's manual ahead of time, so you can avoid having to search.
Step 2: Setting up the Test
With your gloves and goggles on, make sure the ignition and the lights are off in the vehicle. Then, with the multimeter, apply the black lead to the negative (-) battery cable, and the red lead to the positive (+) battery cable.
Step 3: Reviewing the Results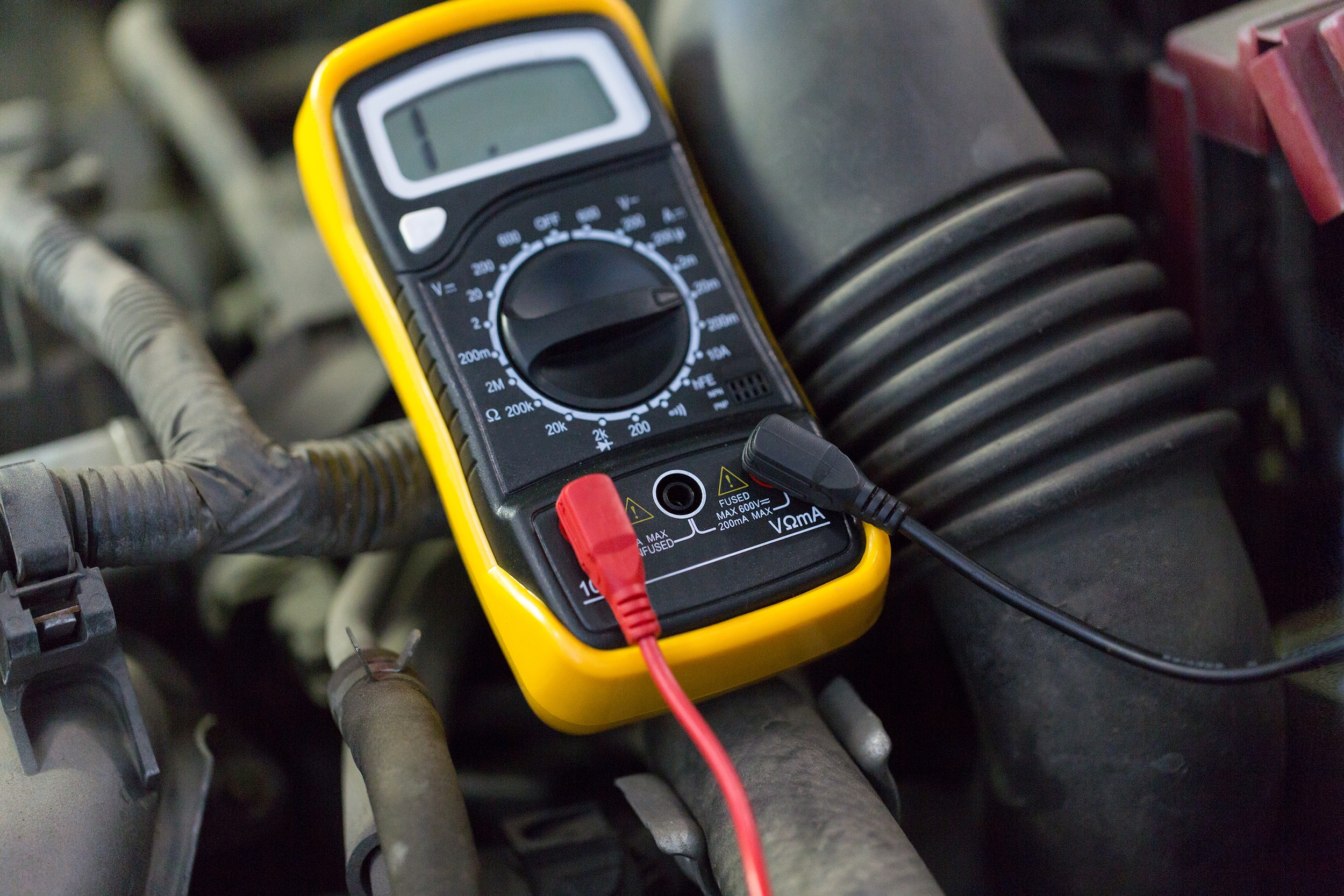 When you view the numbers that come up on the multimeter, compare them to this chart:
12.6+              100% charged
12.4+              75% charged
12.2+               50% charged
12.0+               25% charged
11.8+                 0% charged
The number on the left are the voltage readings. If you see a number that's 12.2+ or less, it might be time to look into replacing your battery.
The Importance of Testing Your Car Battery Voltage
Testing your car battery voltage is important to keeping you and your loved ones safe during your drives around Monroe Township, Farmingdale, Freehold, and Asbury Park. If you have any other questions about your car battery lifespan, or other maintenance issues, contact our service center any time at Freehold Dodge.