We're all familiar with that particular groan we let out when we're driving along as usual and one of our vehicle dashboard lights comes on. The more your know about your 2017 Dodge Charger, the better prepared you'll be when you experience an issue with your vehicle. We've created this handy 2017 Dodge Charger warning light guide to help you get to know your car a little better.
Dodge Charger Warning Lights
Airbag Warning: The profile of a seated person facing an orb lights up when there's a fault with the Airbag Warning light.

Battery Charge Warning: When the battery isn't properly charging, a battery light appears.
Brake Warning: When there's an issue with your brake functions, like excessive brake pad wear or low brake fluid level, the word BRAKE lights up above an exclamation point inside a circle. This light also appears if your parking brake is applied.
Door Open Warning: If one of the vehicle's doors isn't completely closed, the light appears as a car seen from above with all four doors open.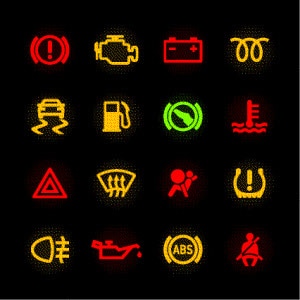 Electric Power Steering Fail Warning: If equipped, a light that looks like a steering wheel next to an exclamation point appears when the electric power steering fails.
Electronic Throttle Control Warning: A lightning bolt between two brackets lights up when there's an issue with the Electronic Throttle Control (ETC).
Engine Temperature Warning: A light that looks like a thermometer partially submerged in water appears if your engine overheats.
Oil Pressure Warning: An illuminated oil lamp appears if your engine oil pressure is too low.
Oil Temperature Warning: A thermometer partially submerged in an oil lamp illuminates if the engine oil temperature is too high.

Seat Belt Reminder Warning: When the driver or front-seat passenger isn't wearing a seat belt while the car is in motion, a light that looks like a seated person wearing a seat belt flashes.
Tire Pressure Monitoring System Warning: If the pressure is too low in at least one of your tires, an exclamation point lights up inside the outline of a tire.
Transmission Temperature Warning: A thermometer inside a gear appears when your transmission fluid is too hot.
Trunk Open Warning: When the trunk isn't completely closed, the profile of a car with the trunk open lights up.
Vehicle Security Warning: If your vehicle security alarm is equipped, a red dot will flash when the alarm is triggered.
Dodge Charger Indicator Lights
ABS Indicator: When a light comes on that features the letters ABS inside a circle, the Anti-Lock Brake System isn't working properly.
Cruise Control Ready Indicator: When your speed control is on but isn't set, the image of a gauge lights up.
Electronic Stability Control/ESC Off Indicator: When your ESC is activated, a car above two wavy lines lights up. When the ESC is turned off, the same image appears above the word OFF.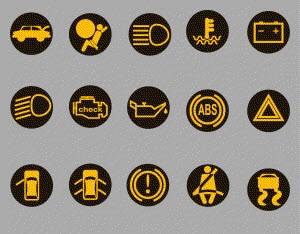 Engine Check/Malfunction Indicator: If there's an issue with the engine and automatic transmission control systems, the outline of an engine lights up. The same image flashes if the issue is severe.
High Beam Indicator: When your high beam headlights are turned on, a light resembling the profile of a shining headlight appears.
LaneSense Indicator: If equipped, the LaneSense indicator light illuminates when your vehicle starts to drift out of its lane without the use of a turn signal. The light looks like a car drifting out of a lane.
Low Fuel Indicator: When you only have approximately two gallons of fuel left, a light comes on that looks like a gas pump.
Service Forward Collision Warning Fault Indicator: If equipped, a light that looks like one car rear-ending another car next to an exclamation point appears when there's an issue with the Forward Collision Warning system.
Speed Control SET Indicator: When you use the Electronic Speed Control to set your vehicle to a certain speed, a gauge lights up with an arrow pointing to the needle.
Sport Mode Indicator: A checkered flag lights up when Sport mode is active.
Freehold Dodge Is Here to Help
Keep this 2017 Dodge Charger dashboard light guide in mind as you're driving, and when one of your lights illuminates and means trouble, look no further for assistance than your local Freehold Dodge Service Center. Give us a call or schedule an appointment online the next time your vehicle needs servicing.