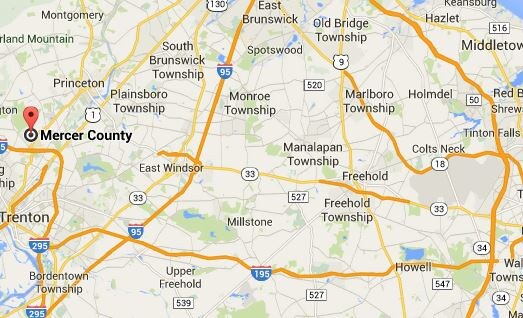 Mercer County sits at the heart of New Jersey. It is home to the state capitol and county seat of Trenton. It is a center for business, education, and research as well as technology, arts, entertainment, and entrepreneurship. The county consistently outperforms other parts of the state as well as many parts of the U.S. when it comes to employment and business.
It is also a center for history; many Revolutionary War battles occurred within its current borders. The county itself came into existence in 1838. It was on the shores of what is now Mercer County that George Washington lead the crossing of the Delaware River. The Battles of Trenton and Princeton happened here as well.
Today Mercer County is home to world-renowned Princeton University, the College of New Jersey, and Thomas Edison State College, among several other homes of academic learning.
The county is bordered by five other New Jersey counties as well as one from Pennsylvania. The New Jersey counties include Somerset to the north, Middlesex to the northeast, Monmouth to the east, Burlington to the south, and Hunterdon to the northwest. Bucks County, PA lies to the west.
About Freehold Dodge
Freehold Dodge is just a short drive from the heart of Mercer County. Among Dodge dealers in NJ, Freehold Dodge takes pride in offering the best customer service, with the largest Dodge inventory and the most competitive pricing in New York, New Jersey, and Pennsylvania.
The Freehold Dodge dealership is proudly celebrating 75 years of service in central NJ. They are proud of this long history of representing the world-class Dodge brand. That brand is still going strong well into the 21st century. 
If you want to experience the best customer service among Dodge dealers in NJ, the only choice is Freehold Dodge. The sales staff here has a real love for the Dodge brand. They can answer any question you might have about particular models in great detail. They love to educate their customers on just what Dodge has to offer.
Mercer County residents who want to take a test drive of any Dodge model need to travel to Freehold!
Directions to Freehold Dodge from Mercer County, NJ
Getting from any part of Mercer County to Freehold Dodge is a straightforward, simple drive.
Take I-95 N to Exit 67 (US-1 N). From there, merge onto US-1 N towards New Brunswick. Turn right onto County Route 638/Grovers Mill Road. Stay on County 638 until you reach Princeton Hightstown Road, where you will take a right. Stay on Princeton Hightstown Road until you reach NJ-133 E/Hightown Bypass. Continue on NJ-133 E to the exit for NJ-33 E/Franklin Street. Turn left onto NJ-33 E, and stay on it for 11.8 miles.
Exit onto NJ-9 S. Take the first right onto Schank Road. Take the first left onto Stonehurst Road, make a U-turn, and get back on Schanck Road going right. You will cross over NJ-9, where the road turns into South Street. Freehold Dodge will be the first driveway on the right.
Car buyers from Mercer County, NJ interested in a new or used Dodge or Dodge Ram vehicles should come visit Freehold Dodge at 299 South Street in Freehold, NJ. Our inventory of cars, trucks, and SUVs is the best among Dodge dealers in NJ.