Just like all automotive parts, your tires will wear down. When that happens, you'll need to replace them with a new set. But not all tires are made equally. To keep your vehicle running properly, you'll need to make sure you choose the right sized tires.
To help you and drivers in Monroe Township, Farmingdale, Freehold, and Asbury Park do just that, the team at Freehold Dodge is here to teach you how to read tires sizes with this step-by-step guide. If you'd like to schedule service, contact us here.
How to Read Tire Sizes Guide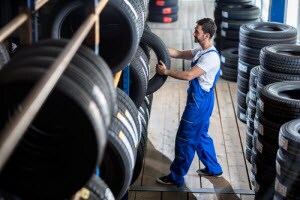 The tires for each vehicle on the road need to be a specific size to ensure a proper performance. If you equip your car with the wrong tire size, you run the risk of ruining its suspension. Plus, it can severely decrease efficiency and overall performance. So, before you choose a set, look at your owner's manual to see which size tires your vehicle needs. You should see something that looks like this: P215/45R17.
The first letter refers to the tire type. If you drive a sedan, coupe, or SUV, you'll probably see the letter P at the beginning of the code. This means the tires are for a passenger vehicle. If you see LT, then the tires are for a light truck. Next, you'll see three digits. These indicate the width of the tires.
 After the forward slash, you'll see two digits followed by the letter R. This is the tire's aspect ratio. The number indicates the ratio between the height and width of the tire. So, if you're seeing P215/45R17, it means that its height between the rim of the wheel to the treads is 45% of its width.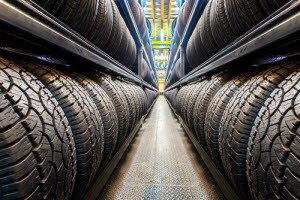 The letter R stands for radial construction, which means the layers of the tire move outwards from the center. Finally, you'll see two numbers at the end of the code. This is the required wheel diameter for the tire.
Types of Tires to Consider
Once you've found your car's tire size, it's time to think about the type of tires you need. To decide which is best for you, think about your driving patterns. If you need to travel through various types of terrain and weather conditions, consider all-season tires. If you need to get through snow-covered streets during the winter, invest in some winter tires for the season. And if you have a performance car, check out the available performance tire options available.
Find Your New Tires Today!
If you're looking get your car a brand-new set of tires, contact Freehold Dodge. We offer a huge selection of tires to choose from, so you'll be sure to find whatever you need here. And if you need help choosing the right set for your car, our team of automotive experts will be here to answer any questions you may have along the way.
Just stop by our service department near Monroe Township, Farmingdale, Freehold, and Asbury Park or contact us today to find your new set of tires!