A vehicle uses seven fluids as part of its everyday functions, and maintaining the proper levels of these fluids ensures that the vehicle works properly. A car's engine, braking system, battery, and transmission all utilize fluid to prevent their parts from overheating or corroding.
Letting fluids drop too low or dry out can cause serious damage to a vehicle, which can lead to expensive repairs and shortening a car's life span. Knowing your car's fluid levels and checking them at regular intervals can save you time and money in the long run.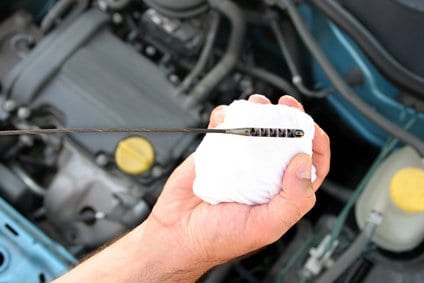 Freehold Dodge's service center is proud to serve Freehold, Farmingdale, and Monroe Township residents by checking and refilling car fluids as needed. Below, we've provided a description of each fluid that a vehicle uses so you know how they work and when to have them checked.
Motor oil: Located in the internal combustion engine, motor oil acts as a lubricant and coolant for the moving parts in an engine's crank case. Without motor oil, heat and friction will cause the engine to seize up. When this occurs, car owners will need expensive engine cleanings, replacements, or repairs. 
Checking and changing motor oil approximately every 3,000 miles or three months can prevent these problems from arising.  
Brake fluid: Brake fluid is extremely important when it comes to driver safety, but oftentimes it goes unmonitored. A car's brake system uses brake fluid and a hydraulic system to come to a stop. Brake fluid compresses when a driver presses on the brake, transferring hydraulic pressure to the brake pads and creating the friction needed to stop the vehicle. The car's brakes will stop working if the brake fluid dries out or leaks. Car owners should check their brake fluid monthly to make sure that its level is correct.
Coolant: Coolant is a heat transfer fluid circulating throughout a car's engine. After collecting heat from the engine, coolant returns it to the car's radiator, which spews it into the air. Coolant prevents the car from overheating and should be checked every three months. 
Transmission fluid: Transmission fluid serves a similar function as motor oil. It lubricates and cools the transmission's inner parts to ensure that it runs smoothly, and should be checked every 30,000 miles. 
Power steering fluid: Power steering fluid improves a car's ability to turn. It uses a small hydraulic pump to increase the steering mechanism's direction over the tires. The owner's manual will have more information regarding fluid change intervals.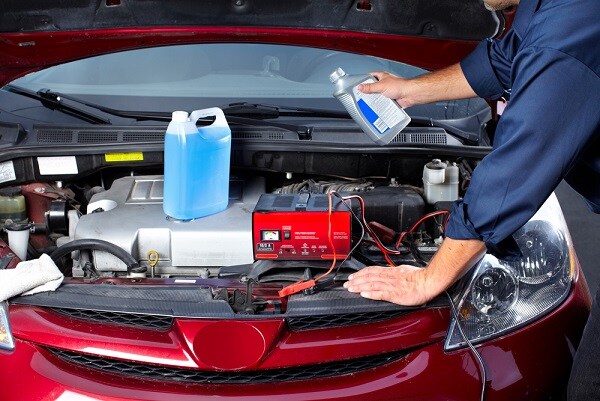 Battery fluid: Battery fluid allows the battery to run smoothly and typically drops if the battery is overheating. Filling each battery cell with distilled water at regular intervals can keep a battery operating properly. 
Windshield wiper fluid: Windshield wiper fluid is nonessential, but it's a convenient way to clean a vehicle's windshield. It can be purchased at your local parts and services center.
Check Your Fluid Levels at Freehold Dodge
If you live in Freehold, Farmingdale, or Monroe Township and would like to check your fluid levels, schedule a servicing appointment with Freehold Dodge.