The dashboard lights of the 2017 Ram 1500 are designed to help you monitor the many different systems and features of your vehicle. Some of these are known as dashboard warning lights, which let you know when a malfunction has occurred. Meanwhile, other lights on the dashboard are used to represent when a certain feature is active or inactive.
In this 2017 Ram 1500 Warning Light Guide, we'll help drivers from across Monroe Township, Farmingdale, Freehold, and Asbury Park, learn more about the Ram indicator lights inside their trucks. If you have any questions or if you need service, don't hesitate to contact us at Freehold Dodge.
Seat Belt Reminder Warning Light

What it Means:
If your seatbelt is unbuckled when you first turn the ignition to ON/RUN, this warning light will turn on a chime will sound. If the driver's or front passenger's seatbelt remains unbuckled while the truck is moving, the Seat Belt Reminder Warning Light will continue to flash and the chime will sound. The light may also stay on steadily without flashing. For more information, read the "Occupant Restraints" section of your owner's manual.
Air Bag Warning Light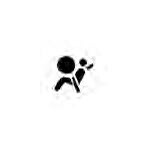 What it Means:
When you first start the engine, this light will illuminate for about four to eight seconds as a routine bulb check. It should then turn off. If the light remains on, comes on while driving, or doesn't turn on temporarily during startup, have the vehicle inspected by a certified technician as soon as you can. If a problem with the Air Bag Warning Light has been detected by the vehicle's computer, the light will be accompanied by a single chime. If the light comes on irregularly, you should have your vehicle serviced.
Brake Warning Light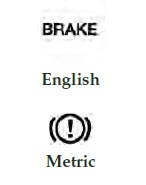 What it Means:
This light is responsible for monitoring a variety of brake functions. If the light turns on, it might mean that the parking brake is engaged, brake fluid is low, or that there's been a malfunction in the anti-lock braking system. If the parking brake is not engaged and there's adequate fluid in the brake reservoir, but the light remains on, there may be an issue with the brake hydraulic system or Brake Booster. If the problem is with the Bake Booster, you may feel a pulsing in the brake pedal when you go to stop.
NOTE: The Brake Warning Light may also illuminate if the brake pads are excessively worn down.
Vehicle Security Warning Light
[need image of the warning light]
What it Means:
When the truck's security system is arming, this light will flash rapidly for about 15 seconds. Then, it will flash at a slower rate until the driver disarmed the system using the key fob or key.
Engine Temperature Warning Light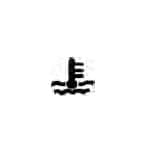 What it Means:
This light will illuminate if the engine is overheating. A chime will also sound as a warning to let the engine cool down. If you don't, the chime will continue to sound for about four minutes. If this dashboard light comes on, please pull over safely, turn off the air conditioning system, and allow the truck to idle in neutral. If the temperature does not go down, turn off the engine and schedule a service appointment immediately.
Battery Charge Warning Light

What it Means:
This light might come on if the battery isn't charging the way it's supposed to. If the light stays on while your engine is running, there might be an issue with the charging system. Please have your truck serviced immediately. There may be an issue with the truck's electrical system.
Oil Pressure Warning Light
What it Means:
When oil pressure gets low, this light comes on accompanied by a chime. If you're driving, stop the vehicle and turn off the engine immediately. Do not attempt to drive the truck until the oil level has been checked and adjusted.
Electronic Throttle Control (ETC) Warning Light
What it Means:
There is a problem with the ETC system. The light will stay on or flash depending what the error is. Pull over and place the truck in park. Cycle the ignition key. If the light does not turn off, the truck is probably still drivable, but you should schedule a service appointment right away. If the light continues to flash while the engine is on, immediate service is needed. In this case, you may have issues with performance or engine stall.
We hope you found this Ram 1500 dashboard light guide helpful. If the light your seeing indicates service is needed, we recommend you make an appointment with a certified technician as soon as possible to prevent further damage. A Freehold Dodge technician will be happy to help you. Just call us at 888-461-9296 to make an appointment. Once your appointment's been scheduled, bring your truck to our service center at 299 South Street, Freehold, NJ 07728.
Click Here to Schedule Service >>
At Freehold Dodge, we proudly serve driver from Farmingdale, Freehold, Asbury Park, and across Monroe Township.