When you're driving down the roads, whether you're in Freehold, Farmingdale, Monroe Township, Asbury Park or anywhere else, the last thing you want to see is a mysterious light flicker on the dashboard. With new technology, it seems like there's always some new warning light and never enough time to figure them all out.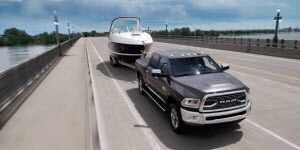 Searching through the owner's manual to find just the right spot can be time consuming and stressful when you don't have the time to devote. That's why a quick reference guide can be great to have around. Keep this 2017 Ram 2500 dashboard symbols handy so when you see an indicator, you can quickly diagnose the problem and get it in for repairs.
2017 Ram 2500 Dashboard Symbols
There are essentially three kinds of lights that will show up on your dashboard, and they're colored like traffic lights for ease of reference. Green lights are those of least concern - they let you know something is engaged and working as it should. Yellow lights are warning lights letting you know there's some sort of issue that has to be checked right away, be it a malfunction or environmental hazard. Finally red lights indicate specific problems with the systems that need to be addressed.
Red Warning Lights
Seat Belt Light: If you see a light that looks like a passenger with their seatbelt on, it's warning you that the seat belt is disengaged and you're moving.
Airbag Light: If you see a side view of a passenger before a circle, your airbag system is malfunctioning and needs to be checked.
Brake Systems: If you see the word "BRAKE" in all capital letters, there's one of a number of major issues with your braking system. The car may be unsafe to drive like this.
Engine Temperature Warning: A light that resembles a partially-submerged thermometer indicates your engine is running hot. You should pull over and allow it to cool before continuing.
Throttle Control System: What appears to be a lightning bolt between reversed parentheses indicates an issue with your electronic throttle control, which should be diagnosed and repaired right away.
Yellow Warning Lights
Electronic Stability Control Light: If the electronic stability control system activates, you'll see a car with "S" curve lines coming out behind it.
Engine Check Light: One of the most serious and unfortunately difficult to diagnose lights, a light that looks like a car engine means there are one of many possible issues with your engine. You should have the problem diagnosed and repaired as soon as possible.
Anti-Lock Brakes: The letters "ABS" indicate an issue with your anti-lock brakes. Unless the "BRAKE" light is also lit, the normal brakes will probably still function, but you lose anti-lock protection.
Transmission System: If you see a thermometer within a gear, your transmission is running hot. You need to cool it down, and then get to a shop for diagnosis and repair.
Green Indicator Lights
Headlights and Fog Lights: A picture of a headlight with lines coming out indicate your high beams are on. One with a headlight that has vertical lines over horizontal ones indicate your fog lights.
Cruise Control: A picture of a speedometer and an arrow indicates your cruise control is on.
Other Lights
Blue or white indicator lights just mean that things like your high beams, hill descent control or other systems are ready to engage whenever you need them.
Get Service at Freehold Dodge
If you notice any of the lights in our 2017 Ram 2500 dashboard symbols, and you're in Monroe Township, Farmingdale, or Asbury Park, stop into Freehold Dodge for service today!