There's no doubt that the wheels are one of the most important parts of your vehicle. And they certainly take a lot of abuse out there on those Monroe Township, Asbury Park, Freehold, and Farmingdale roads.
Wear and tear isn't the only issue your wheels can have. If the alignment is thrown off over time, your car could incur just as much damage.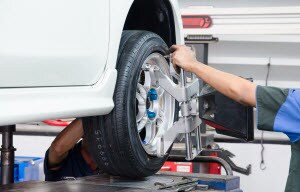 Need help learning when your wheel alignment is due? Then you'll want to check out this article by the Freehold Dodge team.
Know When There's a Problem
Despite all you can do to head off a problem with the wheel alignment, the fact remains that it'll inevitably be thrown off kilter. This is just because there are so many natural flaws in the roads. Many of them can't be avoided.
After driving over uneven roads or through several potholes, your wheel alignment might grow a bit crooked. And when it does, you'll notice several pesky signs.
The first will appear in the steering wheel. Not only will the steering wheel vibrate, but it may also settle off-center when you're at a stop.
When you hit the brakes, you'll notice that your car will start pulling to one side, too. This may be the most common sign of an off-balance wheel alignment.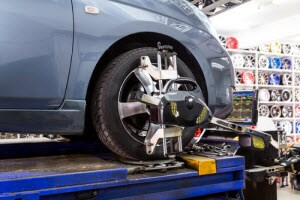 Lastly, if you check your tire tread regularly, you'll also notice that they're worn unevenly. The alignment is the most common cause of this.
Alignment is the Key to a Healthy Drivetrain
Like the tires themselves, your car's drivetrain takes a lot of punishment over the years. This punishment is made even worse when the wheel alignment is out of whack. As a matter of fact, it might even cause irreparable damage.
Don't wait for the problem to snowball. Wheel alignment should be performed roughly every two years. Be sure to stay on top of yours.
Stay Up to Date on Your Wheel Alignment
It's hard to keep your alignment healthy, depending on where you live. Nevertheless, there's a few things you can do to keep things in line a bit longer.
Avoid potholes. Try not to blow through speedbumps, either. Doing so will greatly reduce the impact on your tires.
Keep your tires balanced. You'll need to consult your driver's manual to discover the best pressure for your tires. But you can also have them balanced when the car is in the shop.
Remove excess items from your trunk. Unnecessary weight in the back of the car can place undue pressure on your tires. Clear the trunk to keep things balanced.
Schedule Your Wheel Alignment Today!
The roads can get a little rough here in the Monroe Township, Asbury Park, Freehold, and Farmingdale areas. Which means that your car may be in need of an alignment right now.
If that's the case, then feel free to contact the Freehold Dodge team. Our technicians have all the skills and tools necessary to get the job done for you. Get in touch to schedule your wheel alignment today!