Although they are close to the balmy beach-side resorts, those who live in Freehold, Farmingdale, and Monroe Township still must worry about weather conditions changing quite drastically throughout the year. Temperatures can easily dip below freezing from November until March, but rarely get below 60 °F in late summer.
Having the right set of tires on your vehicle for these seasonal changes makes a huge difference in terms of your vehicle's performance as well as how much money you spend on typical upkeep.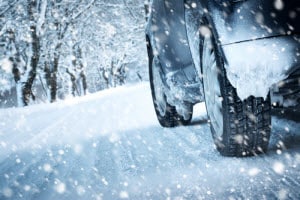 If you have the wrong seasonal tires on your car, for instance, you could have serious handling, braking, and turning problems, and you will also likely have to replace your tires sooner. With the right set of tires, your vehicle can drive through tough weather conditions safely and with more control while sporting a longer-lasting rubber compound better suited for the road conditions.
You can learn more about which set of tires to choose between winter tires vs. all season by reading on. You should then come to your local Dodge dealer so that their knowledgeable technicians can recommend the perfect set of seasonal tires for your typical driving conditions and needs.
Winter Tires
In order to make the right decision on which set of tires your vehicle should have during a given season, it first helps to know why each tire type is more effective for its respective weather condition.
Winter tires have special deep tread patterns that are designed to scoop away snow and slush while also providing more grip on ice. Many tires also have siping, which refers to tiny cuts in the rubber that add grip on low-traction conditions.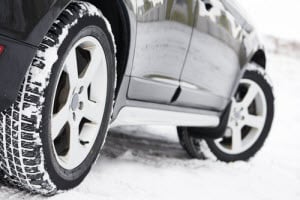 These design features are only part of the reason that winter tires come recommended for colder climates. The major reason lies in winter tires' special rubber compound. Since cold weather can make rubber and other materials stiffer, a regular all-season tire would be far too rigid to maintain effective grip in cold weather and low-traction conditions. Winter tires are much more flexible, allowing them to retain similar stiffness to all-season tires even in cold weather.
This flexibility also makes winter tires too soft in conditions above 45 °F, which will make them wear out faster than a typical tire and require more frequent rotation or replacement.
All-Season Tires
 All-season tires are designed to work in a variety of wet, dry, and even snowy conditions down to temperatures around 40 °F. At this temperature and lower, they could become stiff and lack the flexibility needed to maintain grip.
At normal temperatures during the year, all-season channeled tire treads can offer grip in wet weather along with flexibility even during cool 45°F - 50 °F weather. They also tend to have low-rolling resistance and a long-lasting tread, making them stretch your dollar further during normal temperature ranges.
Put simply-unless it's going to freeze or snow several days at a time for the next few weeks, all-season tires can handle most road conditions with ease.
Deciding on Winter Tires vs All Season with Freehold Dodge
The area around the Shore and Freehold does dip below freezing from late November to early March, and depending on the year, it may snow as much as eight inches a month. During these times, it may make sense to mount winter tires, especially if you have a steep driveway or local roads prone to freezing. At most other times, you will want a reliable set of all-season tires with at least 1/16 an inch throughout the year.
Let Freehold Dodge's expert Mopar technicians discuss your daily driving needs and which set of tires would be best for you. You can schedule your appointment for a consultation or winter tire mount today.