The rip-roaring 2018 Dodge Challenger SRT® Demon was the talk of this year's International Auto Show in New York. If you're like us, you're eager to find out when this newest addition to the Challenger clan will show its horns.
Monroe Township, Farmingdale, and Asbury Park area Challenger fans can keep reading to find out more about the SRT® Demon and when they can expect the full 2018 Dodge Challenger release date with this exclusive post from Freehold Dodge.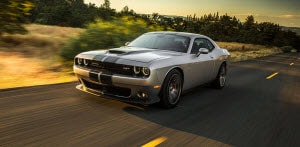 For any questions in the meantime, don't hesitate to contact our team directly.
The All-New Challenger SRT® Demon
With just a single seat built for the driver, the 2018 Dodge Challenger SRT® Demon joins the Challenger's ranks as a track-exclusive trim thatchallenges the rules of the road.
The SRT® Demon was developed out of the popular SRT® Hellcat, put on a performance diet, and given an even beefier engine. It's 200 pounds lighter than the Hellcat, and in terms of power, a whole lot meaner with a 133-horsepower bump to the 'cat's already insane power output of 707 hp.
The 2018 Demon's 840 horsepower, 770 lb-ft of torque capability will give all other racers a run for their money, tearing from 0 to 60 MPH in a mere 2.3 seconds, which makes it the fastest production car, ever.
2018 Dodge Challenger: Model Expectations
While the SRT® Demon is stealing quite a bit of the spotlight, muscle car coupe buyers who want a more practical yet still devilish five-seater will luckily still have their options.
The rest of the trims that fall under the 2018 Dodge Challenger name are expected to follow the legacy set out by the 2017 model, which is definitely not a bad thing. There's currently 14 Challenger configurations available, including an all-wheel drive version and several special editions, all powered by an entrancing lineup of performance-geared V6 and V8 engines.
The 2018 Dodge Challenger Vibe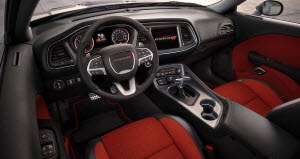 The Challenger's classic, muscle car culture is juxtaposed with sleek, modern styling and today's top technology for an overall look and attitude that's as edgy and intense as its power within.
Whether you're behind the wheel of the base Challenger SXT or the unrivaled SRT® Hellcat, you're bound to notice that the Dodge Challenger is unlike any other car on the road.
Exterior elements that make this presence known include a super-wide stance, iconic halo-ringed headlights, and a unique split-satin chrome grille. Inside, supportive, race-inspired seats and a Uconnect® touchscreen infotainment system with smartphone integration meld cool and cutting edge with classic heritage.
The 2018 Dodge Challenger Will Be Here In…
Your wait for the 2018 Dodge Challenger is almost done! Expect the 2018 Challenger and the 2018 SRT® Demon to be here and ready to test drive in the summer of 2017.
Those in Monroe Township, Farmingdale, and Asbury Park eager to take the world's fastest production car or one of its descendants for a spin can keep an eye on Freehold Dodge's online Challenger inventory.