When it comes to midsize sedans these vehicles are not only practical but they are also powerful. You get fantastic gas mileage with the majority of sedans and they are perfect for not only commuting to and from work but you can also take them on the road for day trips or long distance drives. The Dodge Avenger and the Toyota Camry are both mid-sized sedans that are affordable and come with the latest and greatest technological features.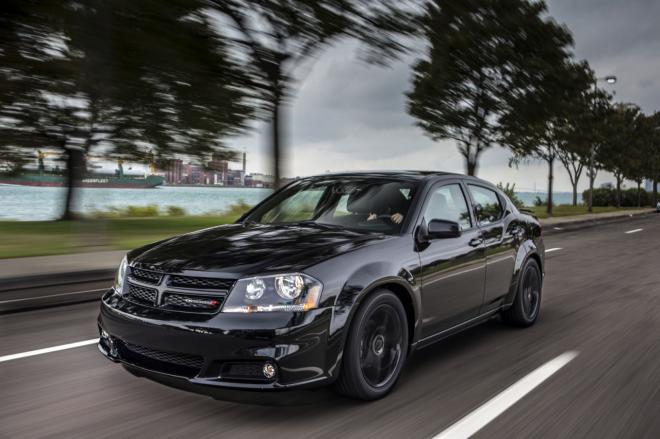 Dodge Avenger
Exterior Features
You can look at three different trim levels for the Dodge Avenger including the SE, SXT and R/T. Your base level SE trim level comes equipped with 17 inch steel wheels. If you upgrade to the V6 engine package you will not only get a larger engine but also a six speed automatic transmission that comes with alloy wheels, a spoiler in the rear and dual exhausts. 
Interior Features
The base level Dodge Avenger comes with air conditioning on the inside, power accessories throughout, cruise control, height adjustable driver's seat, tilting and telescoping steering wheel, 60-40 split rear seat and a four speaker audio sound system that comes along with a CD player and an audio jack. You can upgrade to include satellite radio in your Avenger. 
Engine Power
The Dodge Avenger in the trim levels SE and SXT comes equipped with a 2.4 liter, four cylinder engine that provides 173 horsepower and 166 pound feet of torque. You get a standard four speed transmission with the SE and a six speed transmission automatic with the SXT. You can upgrade to the six speed transmission in the SE if you desire. When it comes to gas mileage you get good fuel economy with the Avenger. For the base level model you can achieve 21 miles per gallon in the city and 29 miles per gallon on the highway (24 miles per gallon combined). 
Toyota Camry
Exterior Features
The Toyota Camry comes in five different trim levels including the L, LE, SE, SE Sport and XLE trim levels. The base trim level is the L and you get 16 inch steel wheels on this model. If you upgrade you can get automatic head lamps with the LE trim level. 
Interior Features
Air conditioning comes standard on the L base level model along with power windows, power mirrors, cruise control, split folding rear seats, trip computer, Bluetooth capabilities, a 6.1 inch touch screen main display and six speaker audio sound system. If you upgrade to the LE or above you get power door locks with remote, and an outside temperature display. 
Engine Power
All of the trim levels for the Toyota Camry come with a six speed automatic transmission. The base trim level comes with a 2.5 liter, four cylinder engine that provides 178 horsepower and 170 pound feet of torque. The estimated fuel economy is 25 miles per gallon in the city and 35 miles on the highway making for a combined fuel economy rating of 28 miles per gallon.
Bottom line, the Dodge Avenger is the best choice because when it comes to finding a vehicle that has all of the interior features you want, along with a stylish exterior and a powerful engine, Dodge vehicles are the way to go. Dodge manufactures vehicles that are built to last and they are comfortable to travel in and drive.  
If you would like to see the new Dodge Avenger or any of the other Dodge vehicles that are currently part of the lineup, come see us at
Freehold Dodge
! Don't forget to find out our
Dodge vehicle specials
, we look forward to seeing you!