One of the most important ways to keep your Dodge Challenger running like new is by keeping up with routine maintenance. At Freehold Dodge, we want to keep our drivers in Monroe Township, Farmingdale, Freehold, and Asbury Park informed about what they can do to ensure their vehicles' longevity and top notch running potential.
You can use this maintenance schedule as a reference for keeping your Challenger in shape. Just check it out every so often. Keeping up with routine maintenance is an easy, yet essential way to keep your vehicle running smoothly.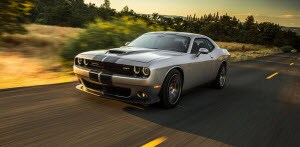 Schedule service for your vehicle today!
Once a Month:
Check the tire pressure and treading. You can check the treading by using the penny trick - just place the penny upside down in the tire treads. If you can see Lincoln's head, the tread has worn down, and it's time to replace your tire.
Check the battery. Make sure there's no buildup on the battery - if there is, simply dust it off with a battery cleaning brush.
Check your fluid levels. You can learn to do this yourself, or bring it to your auto technician.
Check your lights. Check your headlights, taillights, interior lights, to ensure they're all working properly. Sometimes you don't notice when a light is beginning to lose life until you're already on the road.
Every 6 Months:
Change the oil. The old "every 3,000 miles" rule in terms of changing oil is out the window with newer car models. The Challenger's oil should be changed every 6 months, or every 8,000 miles - whichever comes first.
Rotate the tires. Rotating your vehicle's tires should happen every time you get your oil changed, so that you know you're being consistent and the tread on your tires is wearing evenly.
Once a Year:
Replace the A/C filter. The air conditioning filter should be replaced once a year, after the build-up of dirt and debris has accumulated.
Check out the brake pads. You'll want to be sure these haven't worn down, which will essentially lead to needing new brakes.
Check the engine air cleaner filter. This is especially necessary if you are frequenting off-road conditions.
Check for wear/damage on the front-end suspension, tie rod ends and boot seals.
Every 24 Months:
Replace Spark Plugs. This ensures better fuel economy, a smoother startup, and reduces emissions - all thanks to a better spark!
Check the transfer case oil. Meant for vehicles with all-wheel drive, the transfer case oil keeps gears turning smoothly.
Stay Smart with Your Dodge Challenger's Maintenance
Keeping up with your Dodge Challenger's maintenance is an important factor in having it last for years to come. If you have any questions regarding routine maintenance, or any issues that might come up for you, feel free to contact our auto service center at Freehold Dodge.
We'll be happy to address any concerns our Challenger owners in Monroe Township, Farmingdale, Freehold, and Asbury Park have with checking up on their vehicles' maintenance. We're happy to help keep your car healthy!