How long has that light been on? It wasn't there yesterday. Or was it?
In the midst of your hectic morning and afternoon routine of dropping off and picking up your kids, running errands, barely getting to work on time, and trying to squeeze in a bite to eat, you hadn't noticed that light staring back at you from your Ram dashboard-until now. What does it mean? Why is this happening?
All of these concerning questions can be answered by understanding the lights and symbols that you might see on the dash of your beloved truck.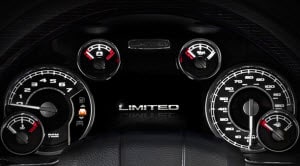 Here at Freehold Dodge, we've put together a comprehensive list of the Ram dashboard lights so you can continue driving safely through Freehold, Marlboro, and Morganville.
Check Engine Light: Probably the most alarming light, the check engine light (which appears as an engine block with the word CHECK under it) could illuminate for numerous reasons, big or small.
Although the problem may not be serious and can only be detected through certain tests, you should still be cautious when this light comes on. Take your truck to be serviced as quickly as possible.
If your check engine light is flashing, it indicates that the malfunction is happening while the vehicle is running, and the truck shouldn't be driven.
Oil Change Required Light: This light indicates that your Ram needs an oil and oil filter change. If this maintenance isn't done regularly, this could cause serious internal engine damage to your truck, causing you to spend even more on repairs. This light looks like a dripping oil can.
Tire Pressure Light: A lit exclamation point surrounded by a partial tire shape means that one or more of your tires has low pressure. Low pressure can be caused by a number of reasons, including an object being lodged in your tire or a drastic temperature changes outside. Don't ignore this warning light, as low pressure in your tires can affect braking and steering.
A flashing tire pressure light could mean an immediate and rapid loss of pressure in one or more of your tires or a malfunction in your tire pressure sensor. Take your truck for immediate service if the tire pressure light is on or flashing.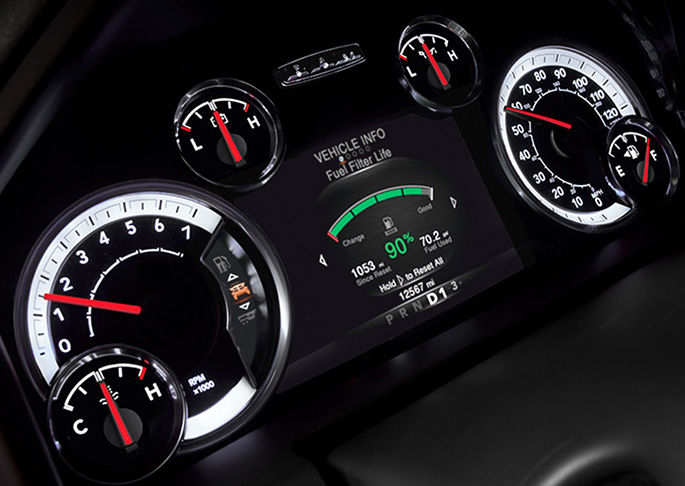 Brake System Light: The brake system light is also a lit exclamation point, but it's surrounded by a circle with parenthesis-shaped curves around it. This light indicates either a malfunction in the braking system or that you may be driving with the parking brake on.
Airbag Light: A stick figure in a sitting position with a large, filled circle in front of their chest and head, this light indicates a malfunction in the system or part of the airbag. This won't hinder you from driving your truck, but in the event of a crash, your airbags may not deploy or work properly.
For the safety of all passengers in the vehicle, it's best to have your truck serviced as soon as possible if this light comes on.
ABS Light: Each tire on your truck has a speed sensor that monitors wheel speed so your vehicle knows when to properly apply the anti-lock brake (ABS) feature. When the ABS light is on, the speed sensor isn't working properly.
If this light comes on in your truck, it will look like the letters ABS within a circle that are further enclosed by parentheses, so drive with extreme caution and have your vehicle serviced as soon as possible.
Coolant Temperature Light: The coolant temperature light warns that the engine's operating temperature is higher than normal. This could be due to a loss of coolant, a malfunction of the engine thermostat, or another issue. Engine overheating shouldn't be ignored and can cause serious engine damage. This light looks like a thermometer with three gauges on its right that's above two wavy lines.
Your Ram Dashboard
If you see one of these lights, or any other light, illuminated on your Ram's dashboard, don't panic. Get to know your dashboard and understand that most lights are a precautionary alert.
For more information about your Ram and quality, expert service, contact Freehold Dodge today or stop by and see us at 299 South Street, where we serve the Freehold, Marlboro, and Morganville area.